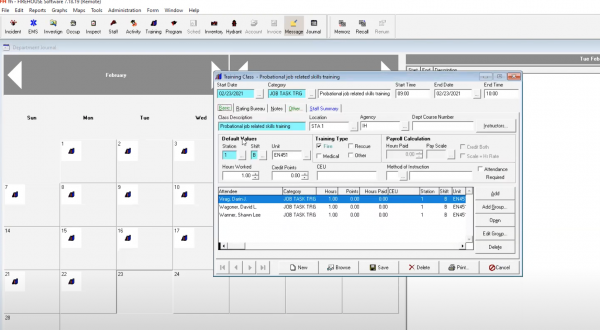 ---
Firehouse Reports for Shift Training
By: Ryan on Mar-01-21
Training Date:
Each time a company completes on duty training it needs to be added into firehouse to receive credit for the training. Attached you will find a short training video that will walk you through the process of logging the training
Key points:
Assign the proper category of training by type ( ex: fire suppression/rookie job skills tasks)
Choose the proper date and location that the training occurred
Use the proper person conducting the training (In house, training officer, etc)
Add all the members who attended the training
Complete the ISO additional form
Save and complete
The on company training is a KEY point within the scope of skills application and improvement. Equally important is the need to log each time this training has taken place in order to total up the hours toward meeting the required number of firefighter training each year.
Please make sure to fill out the roster below for class credit
---
16 registered for Firehouse Reports for Shift Training
All Training